Effective Dark Web Investigation and Digital Risk Protection from Utimaco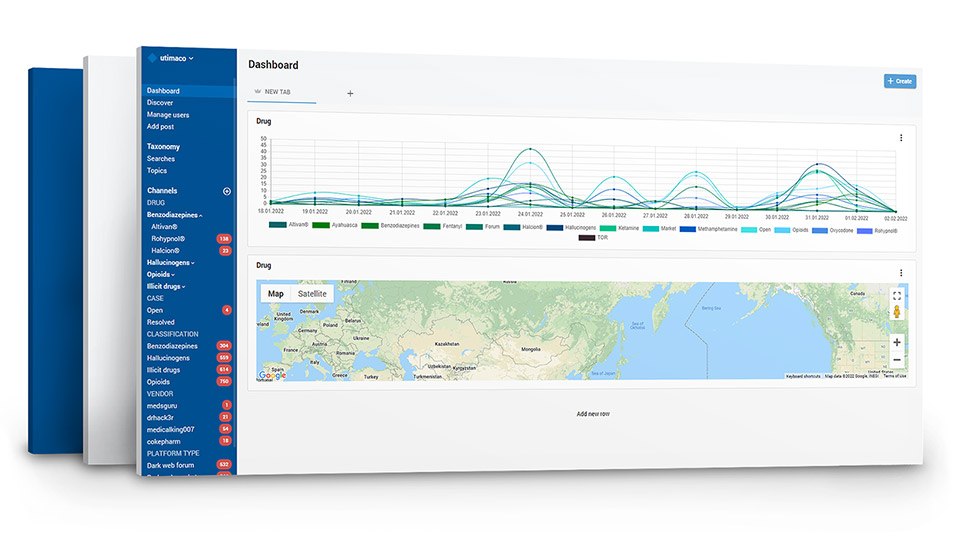 UTIMACO is one of the few companies in the world, which combines cyber security excellence with expertise in digital evidence creation, based on strong engineering focus and 25+ years' experience and innovation. The dark web is a source for invaluable threat intelligence- pre-planned attacks or discussion around vulnerabilities and exploits.
UTIMACO provides a powerful and tailored Dark Web monitoring platform for Investigation as well as Digital Risk Protection that enables organizations to identify and mitigate risks across the deep, and dark web. The Deep Dark Web System (DDWS) is especially designed to support analysts and investigators with sophisticated dark web monitoring tools and automation. Our mission is to prevent criminals from profiting from stolen data, ultimately making the internet a safer place.
Key Benefits
Details
By not using supportive dark web monitoring tools such as DDWS, investigators are facing major risks in missing out on important information such as threat intelligence, as well as ensuring that they remain ahead of criminal targets.
By leveraging Utimaco's DDWS, customers can outpace criminals with critical information that supports the detection and prevention of illegal drug trafficking, cyber threats against VIP's, governments, companies, critical infrastructure, and people.
DDWS provides exceptional visibility into an organization's dark web risks, allowing organizations to take action on threats before they become incidents.
The UTIMACO DDWS is available in two different user variants:
Through the Cloud / Web access - Organizations can securely log into the Dark Web Proxy and have an isolated area to analyze content of the Deep & Dark Web.
Utimaco also offers an "on premise" turnkey solution, for organizations where data has to be stored on-site for compliance reasons.
In this case DDWS is installed on local hardware and connects to the DDWS API via an encrypted tunnel or has its own data scrapers running locally.