A Carrier-Grade Data Retention Solution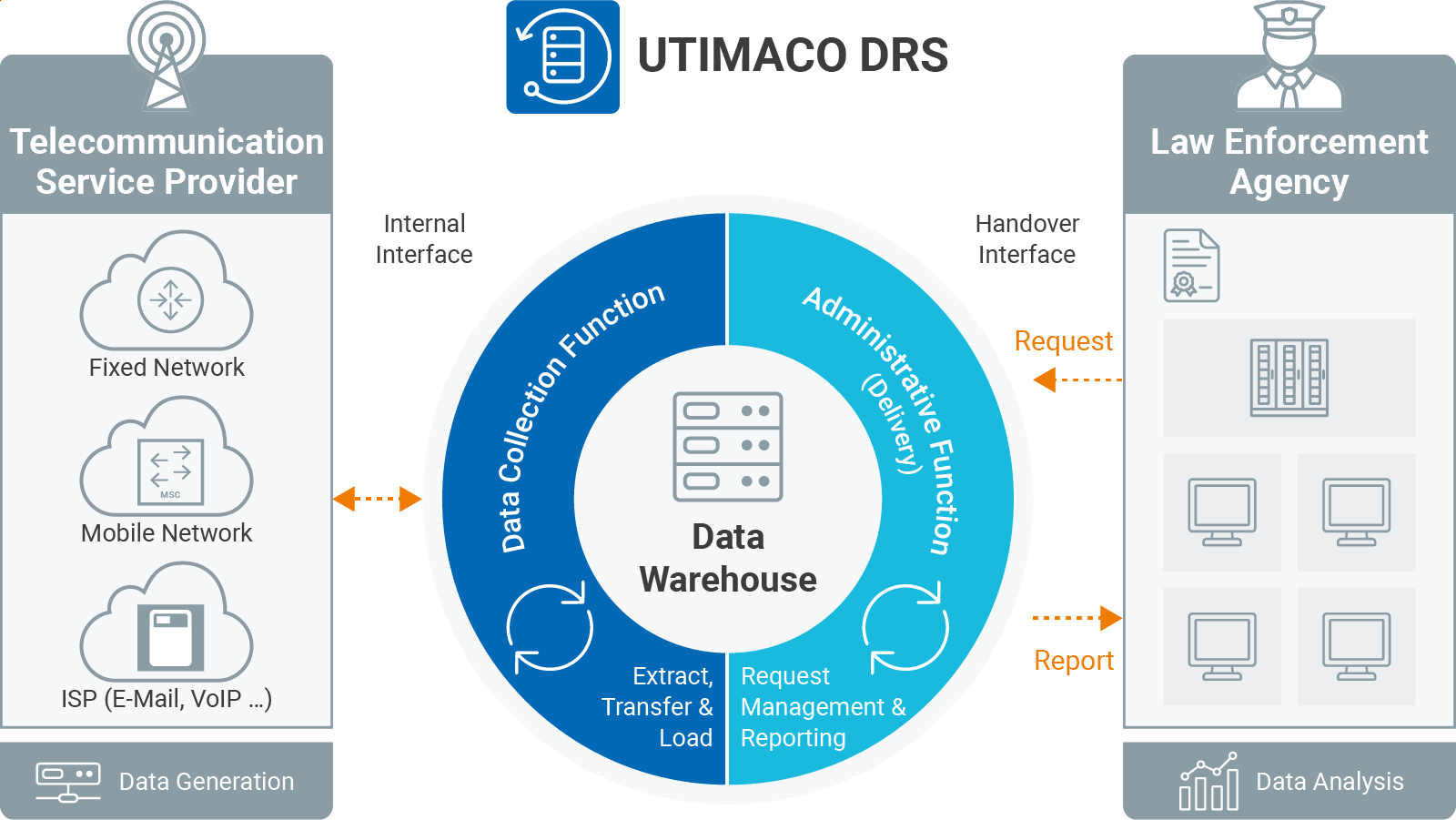 With Utimaco Data Retention Suite (DRS), telecommunications operators and internet service providers can efficiently access and retain all traffic data (CDR, IPDR), subscriber data and network data across various types of networks.
Key Benefits
Details
The Data Retention Suite (DRS) has been designed as a carrier-grade system to enable fast and secure access to retained data by authorized agencies. It enables network operators and internet service providers to easily comply with recent telecom regulations for data retention. System architecture DRS consists of a set of software modules that run on Dell® OEM servers with Red Hat® Enterprise Linux. The frontend component, the DRS Management Server, enables user-friendly access to all administrator and operator functions via a secured web application.
The DRS also provides electronic interfaces to law enforcement agencies via fax, E-Mail, or IP interfaces. The backend components of the Utimaco DRS comprise of the DRS Backend Server, one or more DRS Collection Devices, and a powerful data warehouse optimized for rapid search and big data analysis. The DRS Backend Server is the core of the entire system as it implements the business logic encapsulated in a well protected server. The DRS Collection Devices provide the service- and vendor-specific interfaces to the various network nodes that generate CDR records and store communications data and subscriber data.
Performance and Capacity 
Optimized for simultaneous loading of large data volumes as well as fast query processing. The system is capable of ingesting several billion data records each day, allowing it to accommodate the transaction rates generated by large telecommunications networks with millions of subscribers. The results of an average enquiry returns responses in seconds, not minutes.    
Seamless Integration 
Designed for seamless integration into existing multi-vendor and multi-service networks. The solution is easily customizable to interface with CDR/IPDR systems, log files, subscriber databases and other network nodes.    
Multi-Tenancy 
A single DRS system can be used to administer warrants and search requests for multiple network operators and service providers and/or authorities. Of DRS's granular rights management system can be configured to securely segregate networks, users and authorities, effectively supporting various business models such as MVNO models, managed services, and cross-border service platforms.
High-Availability 
Provides server cluster, hardware redundancy, RAID-5/6 data mirroring, and real-time system monitoring are integral concepts of Utimaco DRS and meet the highest availability demands and disaster resilience.   
Data Analysis 
Easy integration with 3rd Party visualization and analysis tools such as IBM i2 Analyst's Notebook®.