Secure the Payment Ecosystem with Atalla AT1000 with its Unique Speed and Global Support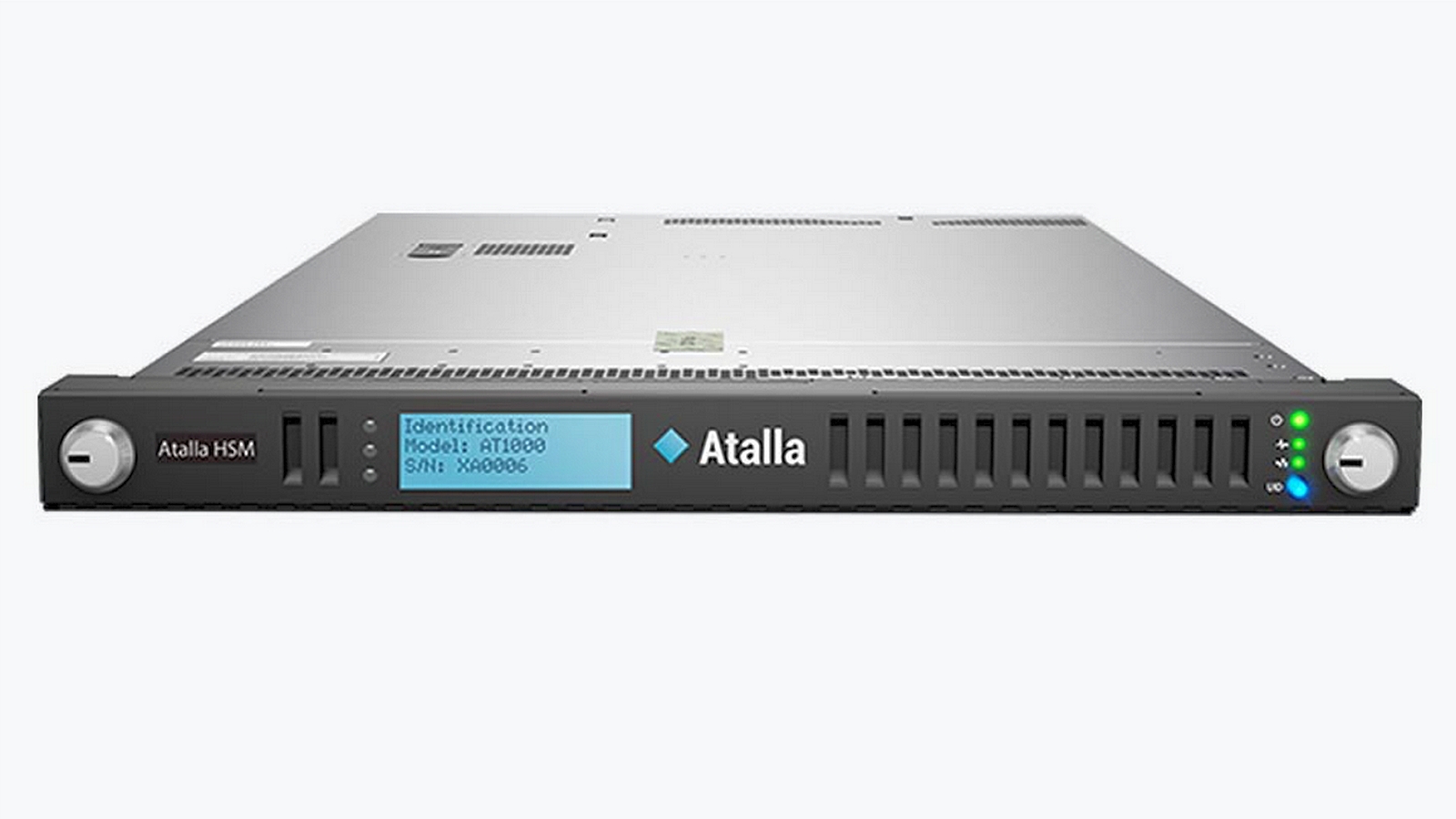 Superior hardware security
Designed for secure and compliant non-cash retail payment transactions and cardholder authentication
Secure payment ecosystems for payment service providers, acquirers, processors and issuers
FIPS 140-2 Level 3 certified and FIPS 140-2 L4 (physical design) compliant
PCI PTS HSM v3 certified
Australian Payments Network approved
Key Benefits
Details
Atalla AT1000 is a payment HSM for non-cash Retail Payment Transactions and Cardholder Authentication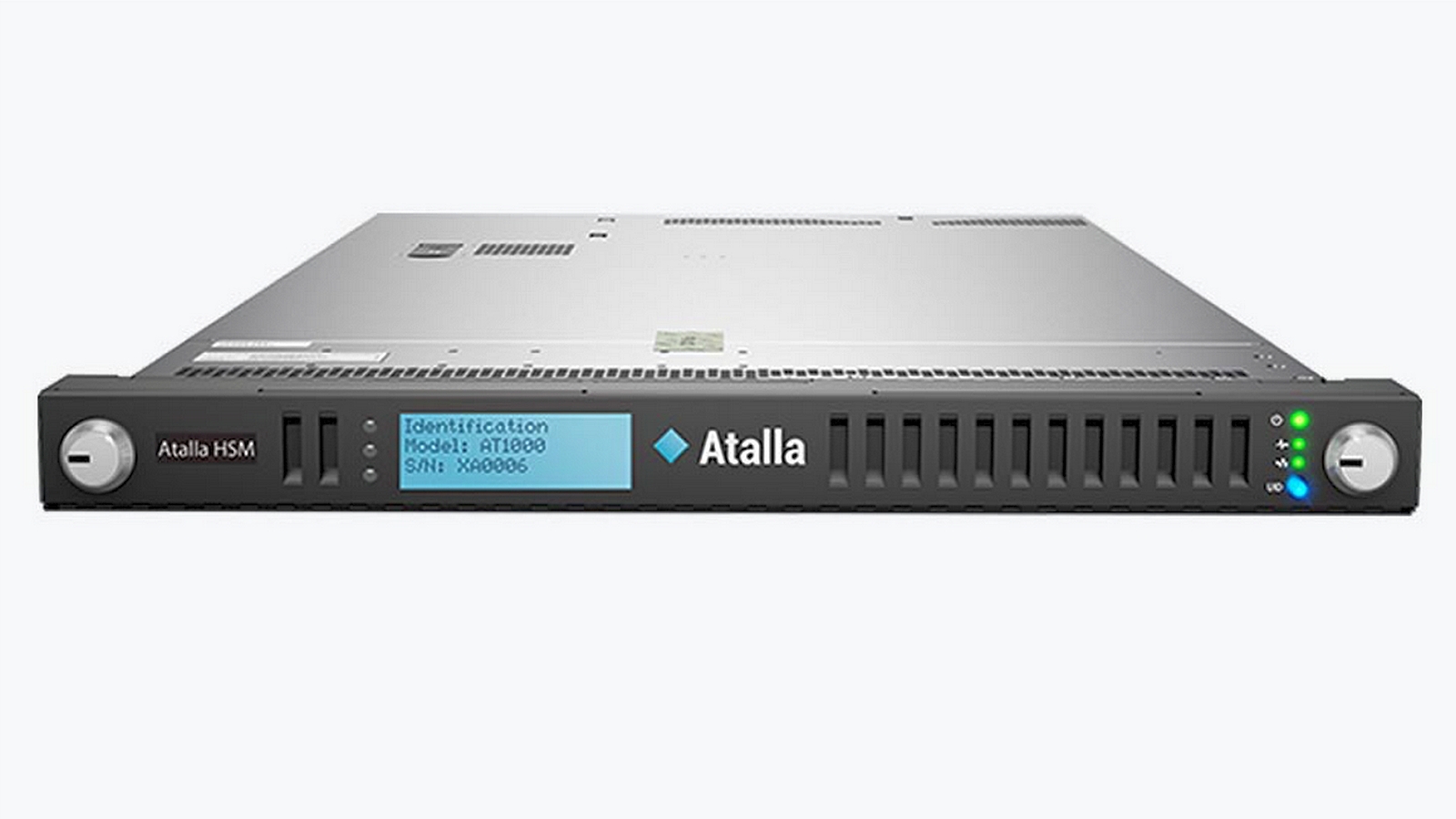 It enables interbanking business and secures the payment ecosystem for payment service providers, acquirers, processors, and issuers.
By providing superior hardware security it delivers maximum privacy, integrity, and performance for host applications.
Its support of cryptographic operations enables the user to perform PIN translation and verification, card verification, card production and personalization, electronic funds interchange (EFTPOS, ATM), cash-card reloading, EMV transaction processing, as well as key generation and injection.
The most compliant Payment HSM on the Market
Atalla AT1000 is a NextGen FIPS 140-2 L3 certified, FIPS 140-2 L4 (physical design) compliant and PCI PTS HSM v3 certified payment HSM. Especially designed to protect sensitive customer data, perform cardholder authentication, and manage the cryptographic keys used in e-commerce retail payment transactions.
Atalla Key Block (AKB)
ANSI standards community approved key block format
Supports the interchange of symmetric keys in a secure manner
Key attributes are included in the exchanged data
Ensures that the cipher text is untouched through binding the key with the integrated attributes
Remote Management
Remote workflow-based model

Combines HSM configuration and key management

Meets the PCI Dual Control Requirement without the need for physical presence

Possibility to streamline software and license upgrades, HSM security policy management, key loading
Secure Configuration Assistant (SCA)
Versatile tablet-based tool
Implements intuitive remote and local management of the HSM
Enables security administrators to easily configure commands, define parameters, calculate cryptograms, and inject cryptographic keys
Easy-to-use GUI with a natural event and decision flow
Improve the user experience and productivity of the security administrator
Reduce risks of errors
Robust Backup and Restore
Robust backup and restore capability with a user configurable policy
Initializing multiple HSMs to a pre-configured known state without Admin Smartcards or key components
SmartCard Authentication
Using preoperatory digitally signed smartcards for authentication
Allows secure administration of smartcards
Provides authentication via tamper-reactive device Atalla Secure Keypad (ASK)
For security critical data entry e.g. key components, and PINs
Multi-Domain Support
Full multi-domain key and policy enforcement
Create and manage up to 10 HSMs in a single 1U Hardware appliance
Applying separate policy enforcements and Master File Keys (MFKs) to govern individuality of each HSM
Redundant Hardware
Designed for high performance ecosystems that cannot afford downtime

Every technical component is fully redundant including power supplies, hard drives, Network Interface Cards (NIC), etc.

Protection from external failure through implemented NIC Teaming
Payment Emulator
Emulate other Payment APIs in the industry to communicate with Atalla API and NextGen RESTful interface
Gain easy access to all Atalla features
Rest API Support
Utilize the flexible, stateless, easy to use and secure

Representational State Transfer Application Programming Interface (REST API) to communicate with your Atalla HSM

Harness the unrivaled protection of Atalla HSMs in public, private and hybrid cloud environments

Further enhance the security of additional HSMs by the support of TLS, ACL, multiple domains and mutual authentication additionally provided by REST API
u.trust 360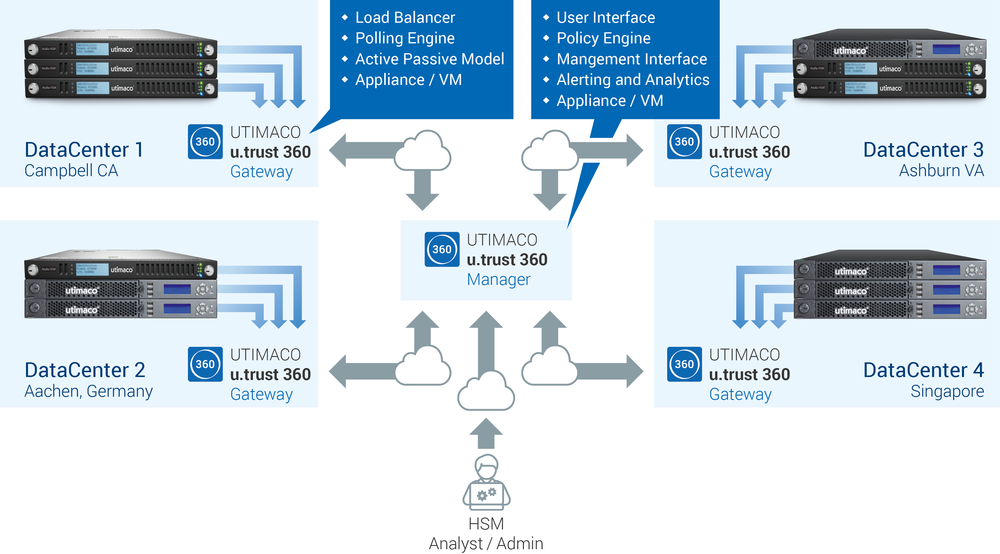 Your Centralized Management and Monitoring Platform
Utimaco u.trust 360 is a unified platform that enables centralized administration, monitoring and provisioning of multiple Atalla AT1000 and CryptoServer HSM appliances. It provides an easy-to-use GUI with natural event and decision flow to manage 100s of cryptographic resources more effectively.
Centrally manage and monitor your Atalla and CryptoServer LAN V5 HSMs
Remotely access your Atalla and CryptoServer LAN V5 HSMs
Benefit from real-time monitoring, configuration, and reporting - on premise or in the cloud

Secure Configuration Assistant (SCA)
The easy-to-use remote management solution for Atalla HSMs
References