Centrally Manage cryptographic resources including the CryptoServer PCIe card, Atalla AT1000, and CryptoServer LAN V5 HSMs with u.trust 360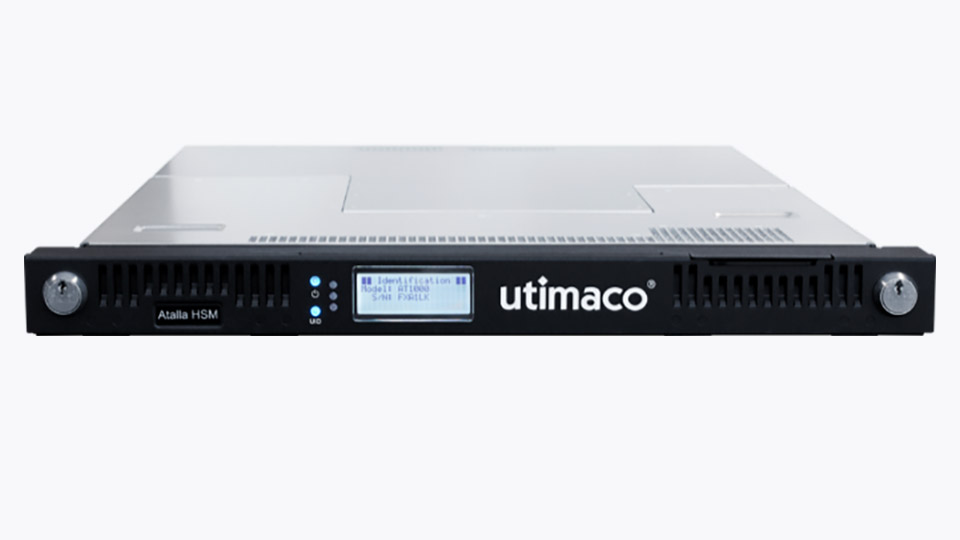 Centrally manage and monitor the CryptoServer PCIe card, Atalla AT1000, and CryptoServer LAN V5 HSMs
Provides remote access to the CryptoServer PCIe card, Atalla AT1000, and CryptoServer LAN V5 HSMs
Real-time monitoring, configuration, and reporting - on premise or in the cloud
Key Benefits
Details
HSMs no longer need to be black boxes
The central management and monitoring solution for  Atalla and CryptoServer LAN V5 HSMs
UTIMACO u.trust 360 is a unified platform that enables centralized administration, monitoring and provisioning of multiple Atalla AT1000 and CryptoServer HSM appliances. It provides an easy-to-use GUI with natural event and decision flow to manage 100s of cryptographic resources more effectively.
This single pane of glass ensures consistent security policy enforcement, provides transparency, and maintains the health of the HSM infrastructure. Leveraging real-time status updates, compliance reporting and centralized alerts; HSM administrators can easily address capacity, network, and compliance issues in a seamless, timely manner.
u.trust 360 is available as a hardware and software appliance for easy integration into an existing cryptographic environment.
We  are proud to announce the availability of u.trust 360 v3.2 - the next generation of easy and convenient HSMs administration. With this release we are offering a significant speed boost and failover architecture. Our new features will help you crack open the "black box" that the HSM once was, and provide useful analytics, reporting, real-time alerts, and much more.  
HA/Failover

Added support for HA (High Availability) – it is no longer a single point of failure.

Performance

Better performing UI with significant speed improvements.

Graphics

More granular graphs with added data points, to increase precision and exactitude.
Device maps to create a blueprint of your entire cryptographic real estate

Other features

Device cloning
Device configuration backup
Implement your centralized management and remote monitoring solution today.
(Registration required)
Centralized Management Platform
Atalla AT1000 and CryptoServer LAN V5 grouping
Single pane of glass for management and monitoring
Ensures consistent security policy enforcement, provides transparency, and maintains the health of the HSM infrastructure
Log Management, Audit Reporting and Centralized Backup Repository
Predefined report templates
Real-time status updates and notifications
SMTP and Microsoft Exchange Integration
Centralized audit and system logs
Centralized repository to backup HSM keys and configuration
Alerting Mechanism
Real-time alerts
Automated, user defined e-mail alerts to monitor CPU, cryptographic operations, and various failures.
Seamless integration & Easy Expansion
Easily integrates with existing Atalla AT1000, the CryptoServer PCIe card, and CryptoServer LAN V5 real estate
No dependency on HSM firmware
Logically group, monitor and manage 100s of HSMs using a modular component architecture
Transaction Monitoring
Proactively plan for peak business hours
Identify HSM bottlenecks
Monitor out-of-box functionalities and customize them accordingly in-line with the company's security policy
Perform bulk onboarding
Avoid system or network outages before they occur
True Remote Management & Enhanced Monitoring
Login session management with live graphs including automatic refreshing
Works seamlessly with existing remote management solutions for Atalla AT1000, the CryptoServer PCIe card and CryptoServer LAN V5
Monitor the Atalla AT1000 sockets in real time
Monitor the hardware health of your HSMs, their crypto operations as well as failures like PIN, CVV, CVC, MAC
Detect and avoid breaches effectively
HPE Integrity NonStop System Support
Provides transparency of HSMs connected to HPE Integrity NonStop systems
Enables flexible network configurations by way of two network interfaces (NIC1 & NIC2) that can be configured in various ways
Leverages ASRM (Atalla Secure Resource Manager) running on the HPE NonStop system
Convenient Customization
Customizable home screen by expanding existing implementation of tags to widgets
Around-the-Clock Updates
Provides real time device status updates and consumption reports via e-mail alerts and via the device dashboard
System Audit Logs & Compliance Reporting
Improve security through System Audit Logs
Stay compliant through detailed Audit logs and application insights
View, save, print, and share detailed compliance reports, based on predefined compliance templates verified through external auditors
Role-Based Access Control
Centrally manage and monitor the entire HSM real estate across multiple data centers, network segments and locations
Customize user groups
Implement granular controls to the managed HSMs
Import users from AD / LDAP store or manage them locally
Advanced Search
Global search to find and group HSMs with similar configuration
Atalla AT1000
The fastest HSM in the Payment Industry. Secure your Payment Ecosystem with Atalla AT1000 and benefit from Unique Speed and Global Support.
SecurityServer
Secure key storage and cryptographic processing for common business applications
CryptoServer CP5
The eIDAS Compliant and CC-Certified Qualified Signature Creation Device (QSCD)
CryptoServer CP5 VS-NfD
The VS-NfD compliant solution for key processing and storage.
TimestampServer
Reliable proof of existence and status of documents and electronic records at a specific point in time
PaymentServer
The Root of Trust for Payment Card and Payment Transaction Processing Use Cases
Block-safe
The specialized HSM for Securing Sensitive Assets in Blockchain Processes
Q-safe
Quantum-Resistance for a Crypto Infrastructure