Sensitive data protection and controlling in Azure Cloud with Utimaco DKE Anchor for Microsoft Double Key Encryption (DKE)
With an ever-increasing collaborative work environment, more and more employees in all industries are using Microsoft 365 on Azure Cloud to enhance productivity and to keep the data current. While Microsoft is providing security for customers data, there is a growing need to secure sensitive data. Securing data with encryption keys that are managed and controlled in house is considered as the optimal security practice for Microsoft 365.
With a collaborative and remote working culture, industries are experiencing the increasing demand for data protection along with necessity to meet the regulatory compliance requirements.
Two-tier security for the most sensitive data in Azure Cloud
Utimaco DKE Anchor is an enhanced security offering for Double Key Encryption (DKE) and Microsoft 365 which is increasingly being utilized by industries like Automotive & Integrated Mobility, Government & Public Sector, eHealth etc. complying with the regulations such as GDPR, FISMA and eIDAS. Utimaco DKE Anchor is the solution of choice for double key encryption where:
Customers want to protect sensitive data on Azure cloud
Customers need to meet compliance mandates
How security & control is achieved for DKE
Double Key Encryption (DKE) works on the principal of using two keys for protecting sensitive data in the cloud. One key is stored at the customers location of choice in FIPS 140-2 validated, Common Criteria (CC) certified and VS-NfD approved HSM while another key is hosted in Azure. Should a key be compromised that is outside of customer's control, the data remains secure. Without access to both keys the relevant data remains securely encrypted.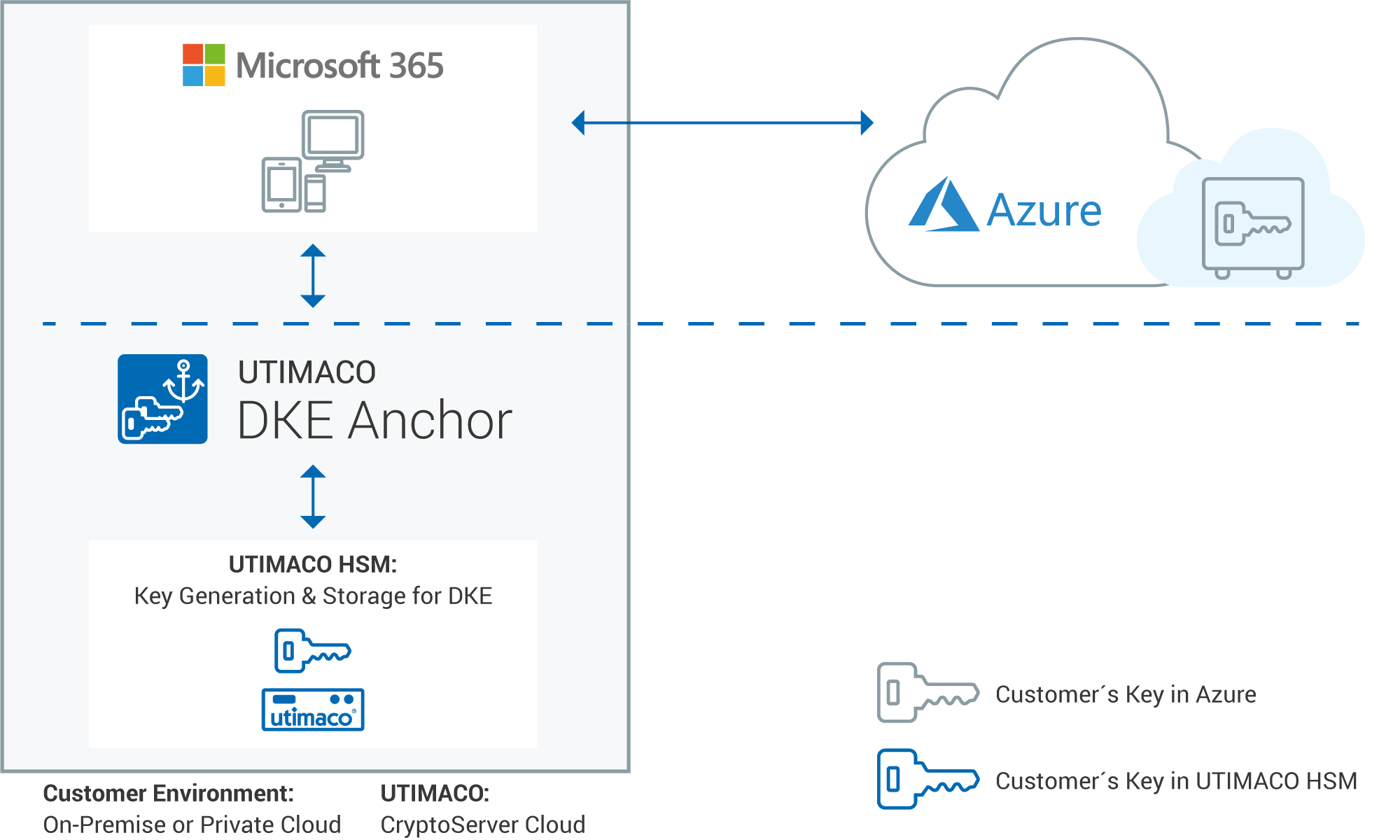 Utimaco DKE Anchor helps increase trust in the digital society by using double key encryption process. It enables the industries to secure the data with trusted key control and management. 
Utimaco experts will help you to create a DKE strategy including implementation and deployment outline. With FIPS validated Hardware Security Modules and Utimaco DKE Anchor, industries can integrate the double key encryption solution for Microsoft 365.